Cast Film Extrusion Line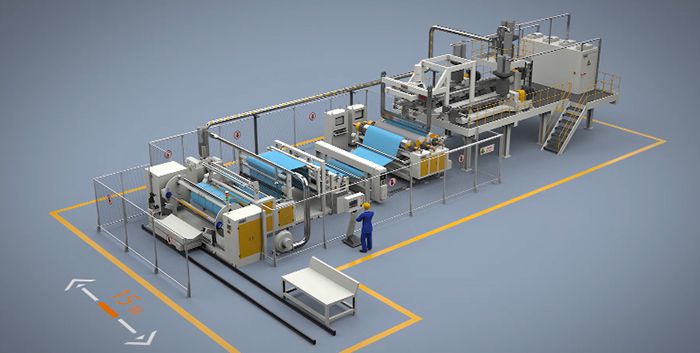 To meet customer's specific requirement, we provide a variety of complete cast film extrusion lines from 1000mm-wide monolayer line to 7-layer barrier film line, and as well as the tailored production line. The advanced technology and smart manufacturing technique are brought into the production line, including extruder, flat T die, chill roll, winder and other downstream parts. The extruder and flat T die, which are two optimized designs, guarantee high performance and various features of the line. Additionally, automation can be achieved to satisfy the customers' requirements.
The cast film extrusion line is equipped with particular screw and barrel. The special mixing screw guarantees the complete plasticization and stable extrusion of the raw material. The barrel with the air-cooled heater, offers good heat transmission and dispersion. Since the extrusion die head is the top brand in the world, it has a long lifespan and ensures the uniform thickness of the film. The full-automatic adjustable die head and the automatic thickness gauge can also be adopted to detect the film thickness on-line and make adjustment accordingly.
The chill roll of the cast film extrusion line is helical channel roll of large diameter, offering better chill effect. The advanced full-automatic film winding system can cut and change film rolls automatically, enabling crease-free roll and neat ends. Moreover, the direct on-line recycle of film offcut greatly reduces the production cost.
The whole extrusion line is under the control of PLC, with human-computer interface, which simplifies the process and helps the maintenance of the equipment. The electric apparatuses adopted come from top brand products such as Siemens, ABB and Mitsubishi, etc. Therefore, they are reliable and get easy access to the after-sale service.
Orient Machinery is a specialized cast film extrusion line manufacturer in China. Our company offers a vast range of products, including cast embossed film line, monofilament extrusion line, extrusion coating machine and more.
Fujian Wellson Machinery Co., Ltd. is located in the city of Quanzhou, a major industrial town in China. We specializes in developing and manufacturing the complete lines of thermoplastic machinery. Our innovative technology and extensive experiences contribute to building cast embossed film line, CPP film line, stretch film line, perforated film line, breathable film line, barrier film line, EVA / PEVA cast film line, TPU cast film line, extrusion coating and lamination line and monofilament extrusion line. Being reliable, durable and priced reasonably, our equipment dominate the domestic market and have been widely accepted worldwide.